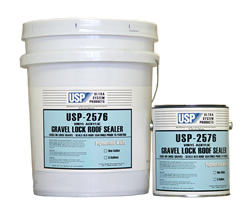 USP 2576 GRAVEL LOCK
WHITE
1 GALLON PAIL
5 GALLON PAIL
A white-pigmented heavy bodied resinous type coating for use
in locking loose gravel to the roof substrate, it prevents gravel to be washed
away. It also helps to bind and seal loose chalk and old roof coatings. It
reduces roof's porosity, and the white pigmentation it produces, eliminates a
two-coat paint job.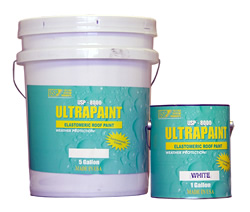 USP 8000 ELASTOMERIC ROOF COATING
WHITE
1 GALLON PAIL
5 GALLON PAIL
Elastomeric Roof Coating's permanent elongation
characteristics enable it to resist peeling and cracking, generally caused by
normal roof expansion and contraction. Formulated with the highest amounts of
fungus fighting ingredients, it prevents mildew growth. Used to insulate as
well as seal and protect, leaving a brilliant white finish on metal, wooden,
concrete, plastic, masonry surfaces, and mobile homes.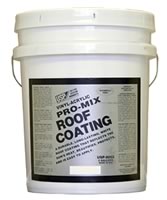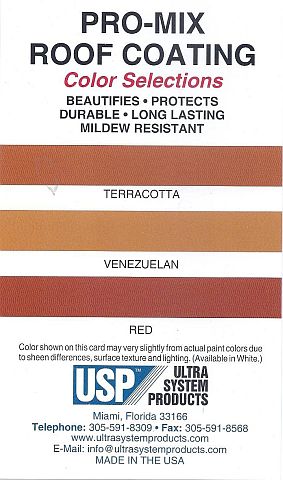 USP 8050 PRO MIX
WHITE
VENEZUELAN
SPANISH RED
TERRACOTTA
5 GALLON PAIL
Acrylic latex based, snow-white roof paint for
use on Bahamas, Bermuda, and clay tile or barrel roofs. Pro Mix, reflects heat
keeping houses or buildings cooler, helping to reduce air conditioning costs.
Semi gloss product is a vinyl acrylic semi-gloss coating designed to produce
a classic subdued gloss appearance. Also available in semi gloss.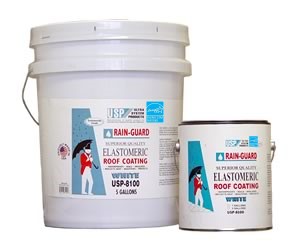 USP 8100 RAIN GUARD
WHITE
1 GALLON PAIL
5 GALLON PAIL
A terpolymer elastomeric (mineral fibered) acrylic, waterproof
roof coating. Renders superior performance on all exterior wall surfaces,
which require top quality waterproof coating. It seals, protects, insulates,
reflects heat, saves energy, and waterproofs. In some cases helps to prevent
expensive roof replacement or repairs. Recommended for use as a protective and
insulating coating for: metal, plastic, masonry, wood and concrete surfaces,
and also mobile homes.