GRAY
WHITE 2.5 POUNDS
10 POUNDS
50 POUND PAIL
Fast-setting hydraulic cement in dry powder form that after
mixing with water, instantly plugs leaks in masonry, cracks in pools, walls,
floors and other places, in less than 7 minutes. It replaces the use of
cement. It is nonmetallic, non-oxidizing, and non-toxic and when cured it is
non-shrinking, but expands as it sets. Ideal to anchor bolts, machinery and
pipes; Because of its high structural strength will even set under water
making it ideal to repair docks.
---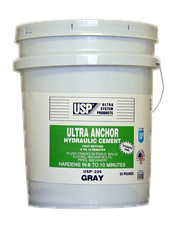 USP 225 Ultra Anchor Quick Setting Hydraulic Cement
Ultra Anchor is a quick-setting hydraulic cement that instantly stops leaks
in masonry...even high pressure leaks. It is a permanent material for plugging
cracks in masonry, wood or metal...above grade or below. Use Ultra Anchor
to anchor bolts, posts, machinery or metal fixtures in masonry. it hardens in
8 to 10 minutes. This product has a compressive strength of over 4000 psi,
and a pullout strength of over 25,000 lbs.(see technical data for more details)